The Ultimate Fighter 13x6
Mean Streak
Team dos Santos is in the locker-room after Mick Bowman's lost. dos Santos gives a speech about fighting an exciting fight but assistant coach, Lew Polley, cuts in and gives his own speech contradicting what dos Santos said.
During a sparring session, Len Bentley collapses in pain holding his knee. Lesnar is bothered by the injuries his team is sustaining.
Harvison and Bentley are both at the hospital where they find that both their respective injuries are nothing to serious.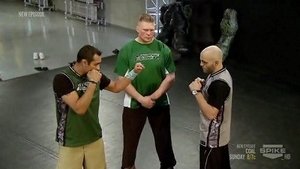 May. 04, 2011
The Ultimate Fighter season 13