The Raccoons 4x4
A Catered Affair
Lady Baden-Baden got stuck in a personal crisis, regarding the high society life as an empty, senseless and aimless waste of time. Schaeffer offers her a job in his cafe, as a cook and helper in general. She promises him the cafe would change for the better, and begins to turn it into an exaggeratingly elegant place with ridiculous background music, an obligation to wear ties and dishes with unintelligible french names.
At the same time, Knox is arranging a party in honour of his wife, and hires the pigs to cater it. Cyril misunderstands this and assumes the pigs were going to leave him altogether, in order to work for Knox instead.
Knox is absolutely ""not amused"" when he meets his wife working at Schaeffer's; for him, a woman of her status taking a job puts the whole family's pride and dignity to shame. They have a dispute, and would nearly get divorced, if it weren't for the pigs, who manage to reunite them (in fear of losing their catering contract).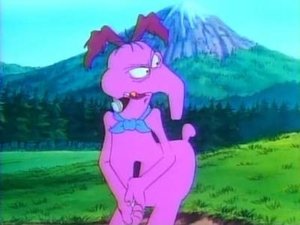 Nov. 09, 1989