Dinosaur Train 1x36
Elmer Elasmosaurus / Dinosaur Block Party
Elmer Elasmosaurus
The Pteranodon family travels on the Dinosaur Train with the Aquacar to an underwater train station to transport Elmer Elasmosaurus back to his home in the ocean. At first Buddy is not enthusiastic about travelling underwater, but quickly becomes a convert when he sees the spectacular sights under the sea.
Fun Fact: Just as Pteranodon solve the problem of catching fish in one way, Elasmosaurus solve it in another, perhaps locating schools of fish and attacking from the darkness below with their long necks. In short, when it comes to animal diversity and evolution, there's more than one way to catch a fish.
Dinosaur Block Party
The Pteranodon family hosts a block party to introduce their new neighbors, the Lambeosaurus family, to all the other neighborhood creatures. The different species all join together to fly, dive, fish, race and especially, to rock the block!
Fun Fact: Throughout the Mesozoic Era complete ecosystems existed. Every part of those ecosystems affect each other — herbivores eat plants that grow because of rain and seeds, and the herbivores are an essential part of the diet of carnivores. We find that even in Peranodon Terrace, the habitat is in working order.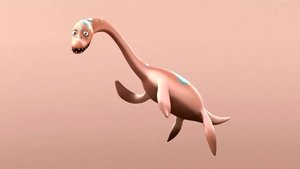 Sep. 28, 2010